A creative challenge open to all members of Etsy!
Create a treasury around the Inspiration Item.
Please note: This is NOT a usual challenge! This week we want to celebrate the nonteams first birthday! For more information please read the discussion *here* (link to team page) and the earlier post on this blog!
There are some important changes this week! Please make sure you read them before creating your treasury!
Our Inspiration Item is.....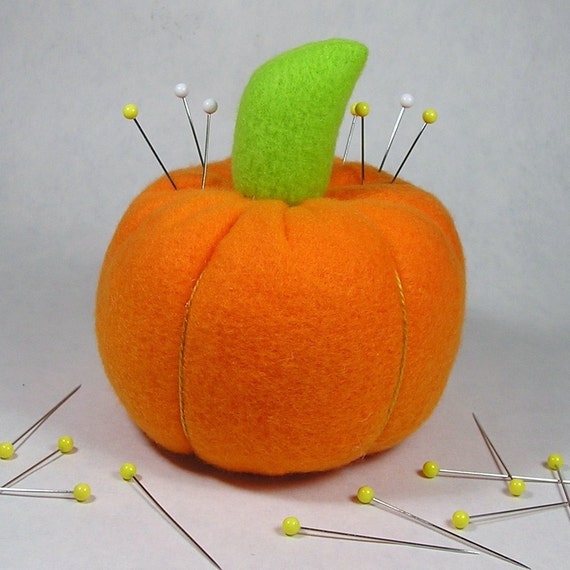 Pumpkin Pincushion / Pin Cushion with Emery Stem from dottyral
Create one treasury using the Inspiration Item above as one item in your treasury. Fill the rest of the treasury with any other items on etsy. Follow etsy's treasury guidelines. Do not include any of your own items. Make your treasury awesome. Add descriptive tags and give it a creative title.
Use etsy's
Merchandising Desk
ideas when possible. Some possible themes/tags from the September Merchandising Desk (October isn't out yet.)- Autumn, Halloween, Oktoberfest, family gatherings, festivals, German traditions, harvest themes, nature's symbols, fall planting, wizardry, magic, owls, mysticism, fall fashion in clothing, accessories, and jewelry. More specifically, key basics, layering elements, the introduction of winter accessories and outerwear components, thick fabrics and rich leathers, autumnal tones, vintage boots and heavy-weight all-weather bags.
Natural History - Woodland forest themes and animals, namely birds, owls, squirrels, hedgehogs, chipmunks, bunnies, butterflies, feathers, nests, eggs, acorns, leaves, trees, branches, woodgrain, and natural colors.
Pantone's color trend report for fall 2011 includes quarry, cedar, and teal greens, nougat and coffee browns, orchid and phlox purples, bamboo mustard yellow, honeysuckle pink, and ember-glow coral, turquoise, rustic fall colors, jade greens and mustards. Halloween classic color combinations (orange, black, yellow, white, red, green, purple).
Requirements for Participation in this
Birthday
Challenge...
- This challenge starts on WEDNESDAY, Noon (Oct, 5th) and ends on SUNDAY, Noon (Oct, 9th)!
- This is meant to be fun for all of us! Dotty will NOT chose a winner, but name some top picks which will be pronounced on the blog and the team page on Tuesday (Oct, 11th)! The curators of these treasuries will not be allowed to chose an inspiration item!
1. Read the
guidelines
.
2. Include the Inspiration Item in any of the
first 12 spots
(not as an alternate).
3.
Leave a link to your treasury in our Entry thread
on our
team page
.
It will be easier for Dotty and the whole team to find your treasury.
Your link also needs to be there to have your shop added to the sidebar list and to be added to the buyer account.
4. Tag your treasury with
NonteamBday
. (one word - no number this week!)
5. Be sure to
include a link to the blog in the treasury description
. If it doesn't fit into the description, you may leave it in the first comment.
http://treasurychallengenonteam.blogspot.com/
6. In an effort to get the most of Dotty's treasuries to the front page you are allowed to make as many treasuries as you like this week! Make sure to leave a link to all of them in the Entry thread!
7. Support other participants -
View/Comment/Click
on as many other treasuries in the Challenge as possible. Do not leave a link to your treasury in the comments of another's treasury.
8.
Don't tag your nonteam treasury with tags for other teams
that you are a member of. Our nonteam treasuries are not meant to promote your other teams.
*** Make sure that your shop is in compliance with etsy's TOS. We won't promote shops that are resellers, blatant copyright infringers, purposeful mistaggers, etc.
Highly Recommended (not required)
...
* Become a follower of this blog to stay in touch with each new challenge, challenge winner, announcements, etc.
* Use the tag
NonteamBday
on your items to make it easier for others to include your items in treasuries. Only use this tag if you plan to create a challenge treasury THIS week. Please read the details
here
.
* Use items from other participating shops if you'd like and if their items fit your theme. There are three ways to find them.
1. Search
NonteamBday
for all items on etsy. (Don't forget about our supplies and vintage shops!)
2. Visit our etsy
buyer account
to see items from shops that participated in the previous challenge.
3. See the left sidebar of the blog to find shop links.
* Keep your treasury updated during the Challenge. Replace expired/missing items. (Don't replace the Inspiration Item with something else should it sell.)
* Tweet, Facebook, Blog, etc to spread the word about your treasury and our Challenges.
* Convo people that you included in your treasury.
* Join us in our Chatting thread on our
team page
on etsy.
* Come back next week to participate again!
Time to make some treasuries!
Please double-check the requirements above after you've created your treasury to be sure that you've fulfilled them all.
Have Fun!
This challenge ends on Sunday, October 9th (noon - eastern).
The top picks will be posted on Tuesday, October 11th (noon - eastern).
*** The winner of challenge #51 will be announced next week on WEDNESDAY, October 12th! Tutika, the judge of #51, has already chosen one - thank you for helping us to keep this secret!
*** We will resume with challenge #52 on THURSDAY, October 13th (as usual)! The inspiration item will come from the winner Tutika has chosen!
Eastern time is the same time zone that etsy uses.